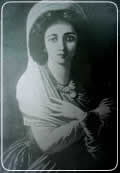 Sofia Potocka
Meanwhile S.Potocki fell deeply in love with Sofia. Legends were told about their romantic love in Warsaw and Petersburg. It happened so that Josephine, who was in Vienna, heard about the romance, but her own behavior was far from being perfect.
In May 1792 the manifesto of magnates' confederation was announced in a border town of Potocki's estates, Torgovitsa; the document was against Polish Constitution, and Potocki himself became the marshal of Torgovitsa Confederation. Then armed struggle began, Russian armies supported confederates in it. At the end of June Potocki asked Sofia to come to Tulchin (she was in Kherson at that time), and they were together all the time till the victory of Torgovitsa Confederation in 1793; the struggle was over in Grodno not with the victory of magnates over the king (as confederates hoped), but with the second division of Poland.
On the eve of the division of Poland S.Potocki made a decision to leave Poland and Russia, where his estates were situated, forever. On the 7th of May 1793 he set up a contracts with his wife; according to the document Josephine became the owner of the estates and had to send him 50 thousand ducats a year (900 thousand of Polish zloty). Together with Sofia Potocki went to Hamburg by sea to live there.
The Seim in Grodno (June-November 1793) ratified the treaty as to the transition of a part of Byelorussia with Minsk and the Right bank of Ukraine to Russia, including Podillia, the eastern part of Pelisses and Volyn on the line from Dvinsk through Pinsk and to Zbruch. In 1794 under the leadership of T.Kostiushko an uprising began in Krakow, and in April it was spread to Warsaw. At first they began to destroy traders - S.Potocki's followers. They were hanged on the gallows or on the street lamps. Among other betrayers a former diplomat Karol Boscamp-Liasopils'kyi was also hanged. As S.Potocki, S.Rzhevutski and K.Branytski were abroad, their portraits were fixed to the gallows. Potocki got very angry. He wrote a letter to Zubov demanding the rebels to be punished. Finally Potocki came to a conclusion that he had nothing in common with Poland and he wrote to tsarina: "The scenes of cruel punishment in Poland have convinced me that I do not have to have another motherland than the kingdom of Great Empress, your Majesty. From this moment I am proud to be one of the most faithful subordinates If Great Empress finds it possible for me to wear the uniform of her army, it will make me feel extremely proud and happy".
Zubov replied to Potocki's letter and stated that tsarina respected and invited him to come to Petersburg to solve his problems and to settle in Ukraine.
On the 10th of October 1794 T.Kostiushko was wounded and taken prisoner in the battle near Matseievytsia. In November the tsar's troops conquered Warsaw, the uprising failed. In 1795 the 3rd division of Rich Pospolyta took place. Russia adjoined Lithuanian lands, rejoined Western Byelorussia and Volyn. Austria occupied Small Poland and part of Mazovia, Prussia conquered the rest of Mazovia with Warsaw and several other Polish lands in the west. Rich Pospolyta stopped its existence as an independent state, the Polish people found themselves under foreign yoke. Although tsarism did not occupy Polish territories, it was its fault that native Polish lands were divided by feudal-absolutory Austria and Prussia, the Polish people experienced national cruel oppression, the Polish state ceased its existence. However, Potocki, as well as most of magnates, did not suffer from losses.
In May 1795 Potocki set up his mind to get divorced with Josephine and to come back to his estates. At the end of June he went by ship from Lubek to Petersburg, where Josephine lived at the court and was a lady of honor of Katherine II. Few weeks later Sofia with Potocki's children, Kostiantyn (born in 1793) and Mykola (born in 1794), went through Poznan and Warsaw to Lviv; she wanted to start a divorce procedure with Witt. On her way Sofia often wrote letters to Schensnyi. One of them is of great importance, as it explains the idea to found a park in Potocki' properties. Sofia made a stop in the town of Neborove, not far from Warsaw, to visit her friend Helena Radzivill. On July 18 Helena took her friend to a fancy park "Arcadia", built in a romantic style with the elements of Greek mythology.
Sofia wrote to Potocki:"After dinner we went to see Arcadia. It is hard to imagine anything more romantic and beautiful. You know Arcadia, but you saw it ten years ago. Imagine, how young trees can grow during a ten-year period and how much has been done to improve this place I really love Arcadia; there is every species of flowers and exotic plants which can ever be grown in the world. Walking along the gardens of Arcadia, I have got a feeling that at the peak of summer I live through spring again and every tree seems to say "I feel great here!" Arcadia resembles the Crimea very much; you see, within two years we could have similar or even better Arcadia in that area with your resources, mostly because there is no need in artificial plantations. Is that true, my dear friend, that we are going to have a hamlet in the Crimea?" In the letter of July 19 she added a wish to her request:"If we have a country estate in the Crimea, you should order to place organs there, just like Helena Radzivill has in Arcadia
But Sofia did not know about a real financial position of Schensnyi, which could not allow him to buy an estate in the Crimea. Josephine, his second wife, with her managers brought the estate almost to bankruptcy. In Petersburg Potocki did not get a permission to get divorced, as Katherine II supported Josephine. At the beginning of autumn 1795 Stanislaw arrived in Uman, because Josephine occasionally visited Tulchyn, hoping to save her marriage with him. In February 1796 Sofia also visited Uman and saw this town for the first time. Soon after that she got all her divorce papers done (she was not married to Josef Witt any longer). Potocki managed to get his divorce only after the death of Katherine I1.A wedding ceremony of Schensnyi and Sofia took place on the 17th of April 1798 in Tulchin; it was done by an orthodox priest and a Roman Catholic priest in the orthodox cathedral, which substituted Roman Catholic cathedral after the adjoining of the Right Bank of Ukraine to Russia in 1793.