THE HISTORY OF FOUNDATION, CONSTRUCTION, DEVELOPMENT AND MAINTENANCE OF THE DENDROLOGICAL PARK "SOFIYIVKA"
After the book
of І.S.Коsеnko " Sofiyivka" ,
Uman, 2003,
Translated by T.Sukhomeilo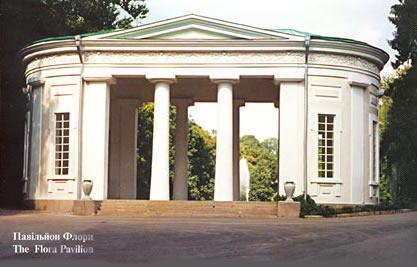 The Flora Pavilion
The dendrological park "Sofiyivka" of Ukraine's National academy of Science, which is situated in the town of Uman, Cherkasy region, is well-known far away the borders of Ukraine as one of the most famous masterpieces of the world landscape gardening of the end of XVII - the beginning of XIX centuries stands at the same level with other examples of park construction of Europe, such as Balbi Garden in Florence (Italy), San-Susi Park in Potsdam (Germany) and Versailles (France).
In the history of foundation, construction and development of "Sofiyivka" we distinguish six different periods throughout the years.
1796-1831. The Foundation.
To know the history of "Sofiyivka", we have, though in brief, to learn the history of Uman and the life of its owner at that time - count Stanislaw Schensnyi (Felix) Potocki.
From 1609 Uman was the property of Poland and was presented to count Kalinovski by Polish king; later the count handed it over to one of his daughters - Helena. In 1726 she sold the property to Stanislaw Potocki, who, in 1732, presented it to his nephew Francishek Salezi. Magnate Francishek Potocki, a grandson of corona hetman of Poland, or Rich Pospolyta, was very rich. His residence was in the town of Krystynopil (at present Chervonograd, Lviv region) and it was as rich as a king's residence.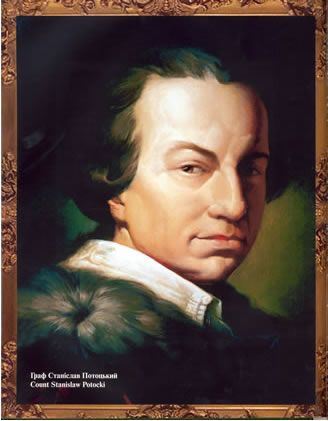 Stanislaw Schensnyi Potocki
Stanislaw Schensnyi, the only child of Salezi Potocki, was born in 1751 (according to other sources - in 1752). His tutor was Roman Catholic priest Wolf, a well-educated man for that time. He tried to develop great morality and sense of charity and care about peasants in a young man, as they would create his wealth. His mother and father were very strict; his mother was even despotic in her relations with the son. His parents dreamed that their son' wife would be a princess or even a daughter of a rich duke or count. In contrast to their hopes Schensnyi fell in love with Gertrude, a daughter of count Komarovski, who owned only few villages. In 1770 Stanislaw and Gertrude got married secretly. This marriage was the end of Gertrude's life (she was pregnant at that time). By instructions of Salezi Potocki, Gertrude was kidnapped and taken to the monastery. During the trip they put a lot of pillows on her under which she suffocated and died. Her dead body was downcast into the ice-hole in the river. It was so heartbreaking for Stanislaw that he tried to commit suicide. He was saved but could not forget his first romantic love though. Gertrude's father began a legal case, which meant for Potocki's family extradition from Poland. His mother, Hanna Elzhbeta, could not stand the shame, which would expect them in future, suddenly died at the beginning of 1772; his father passed away on the 11th of October.
Stanislaw, who was 20 years old, became the only owner of great property and millions of his father's debts. As Galicia was invaded by Austria, according to the first partition of Poland, the young magnate decided not to live in Krystynopil. In 1774, having got married rich countess Josephine Amelia Mnishek; Schensnyi moved his residence to the territory of Poland in Tulchin. He gave his Galicia property to count Popinski, who got the obligation to pay all his fathers' debts and handed over to Potocki the authority to use The State Zvenyhorod starostvo for a 50-year period.

The Palace of Potockis
in Tulchyn
In 1774, he visited his estates situated on the right bank of Ukraine for the first time; he was amazed by the beauty and generosity of this place. In 1782, a beautiful palace was built in Tulchin; also a great park was founded there, rich in native and exotic vegetation. Traveling with his young wife in Europe, Schensnyi brought a lot of young plants of Lombardy poplars to Tulchin from Italy.
Potocki tried to improve agriculture and forestry in his estates. A chief manager of the estates was a well-experienced expert. Various varieties of wheat, rye and oats (new for Poland of that time) were sown there. Much was done to improve cattle breeds. Gradually a general chynsh (i.e. mandatory payments) was introduced, it meant that peasants had to pay money. Peasants under a general chynsh, who worked for a landlord, were paid for the work done. Serfs benefited from this innovation, and it also evoked their initiative. The instructions worked out for Potocki's estates
ordered a manager of a household to treat a serf in the same way as an ordinary person, in case he could not, which was hard to imagine, he had to treat him as the most valuable wealth of the owner. There it was also said that all the peasants had to live in common houses, built by a group of peasants, not in the earth-houses. The manager of estates had to check that peasants planted a certain number of apple-, pear-, cherry- and mulberry-trees in their homesteads. In addition, peasants had to plant fast-growing trees, namely willows and poplar trees, in ravines and other places not suitable for plowing. In spring all the villages in Potocki's estates were in fruit-tree blossoming.
In Ukraine Potocki had about 15 mln. Hectares of land, 130 thousand of serfs working for him; his annual income was 3 mln. Zloty (Lojek 1982).
In 1773, S.Potocki got engaged into a political life of Poland. He got the status of Russian voievoda from the king. Russian voievodship (voievodstvo) - Galicia - belonged to Austria, and Polish voievoda did not have any particular duties, but the status itself gave him the right to be considered a senator. In 1784, in Polish Seim, Potocki announced that he would give artillery regiment to Rich Pospolyta and would support it in future. Poet Siarchynskyi wrote a poem glorifying Potocki's patriotism. The regiment was to be located in Tulchin, and to make an artillery unit lieutenant L.Metzel (who later became an architect of "Sofiyivka") was sent there in 1786. In 1788-1789 the things in Polish Seim did not go as well as the magnates wanted them to be, S.Potocki with his family went to Vienna first, and then they traveled for a long time.
In 1791, Polish Seim adopted a new constitution and some resolutions, which limited the rights of feudal landlords. This evoked some dissatisfaction of Polish magnates, and in October 1791 S.Potocki and Severin Rzhevutski and Ksaveri Branytski arrived in Yassy, Russian army headquarters (the army took part in the war with Turkey), to discuss the plan how to fight with new laws. Probably, it was in Yassy, that Potocki got acquainted with a beautiful Greek girl Sofia - a wife of Russian army general, a commandant of Kherson - count Josef Witt.
Who was she, a mysterious woman, for whom one of the most beautiful parks in the world was created and named in her honor?


The park, as a scientific institution of the National Academy of Science of Ukraine, is engaged in researches of connatural and cultural flora of austral Forest-steppe of Ukraine, introduction and acclimatation of plants in the region.

The article of the director of the famous park I. Kosenko summarizes this work:
50 years anniversary of the Sofiyivka park as a scientific institute of the Ukraine's NAS
---
In the final article of I. Kosenko the review of the park's whole history from the moment of the foundation till todays is made:
205 years since the foundation of Sofiyivka
---
The team of scientists of the park issued the catalogue of plants with the total amount 1994 taxons, in which 25 taxons of hazels, 24 beeches, 41 fir-trees, 44 junipers, 100 lianas, 320 roses, 57 rhododendrons and 98 flower plants - totally 1220 trees and bushes and 774 herbaceous plants.
Catalogue (zip 380 КB)
---
The hothouse of the park is the unique center of cultivation of conifers and deciduous trees, bushes, roses seedlings - total more than 200 items.
Price-list
Open|Download (22 КB)
---
The beauty of the park was sung by a lot of poets, but the poem of the Polish poet S. Trembecki occupies an especial place. Written in 1811, it is the park guide book in verses.
"Sofiowka" and comments of Adam Mickiewicz (polish)
---
Park as the tourist center offers the visitors a complex of services - excursion support in six languages, hotel, restaurant, conference hall etc.
List of services
---